Inspired by a social drinking culture, a lot of pubs in London and the UK have become known for their cocktails. The Winslow has brought that culture here to New York City and as one of the premier gin bars, The Winslow has over 40 different types of gin available. Our menu is easy to read and allows anyone to pair their gins with different types of food and flavors. We even offer gin clubs every month to introduce people to gin and gin drinking. Upon inception, we wanted The Winslow to focus on gin because of gin's unique qualities as a spirit and flavor palate.
History of Gin
London's history with gin is fascinating, and despite still being one of the biggest producers of gin in the world, London Gin has had a torrid past. In the 18th and 19th Centuries, London's gin consumption increased due to many reasons, however, one main reason was that the water was so bad that it was actually safer to drink gin. Seeing their market share decline, Beer producers decided to create a propaganda campaign by commissioning William Hogarth to execute a campaign, which he did very well.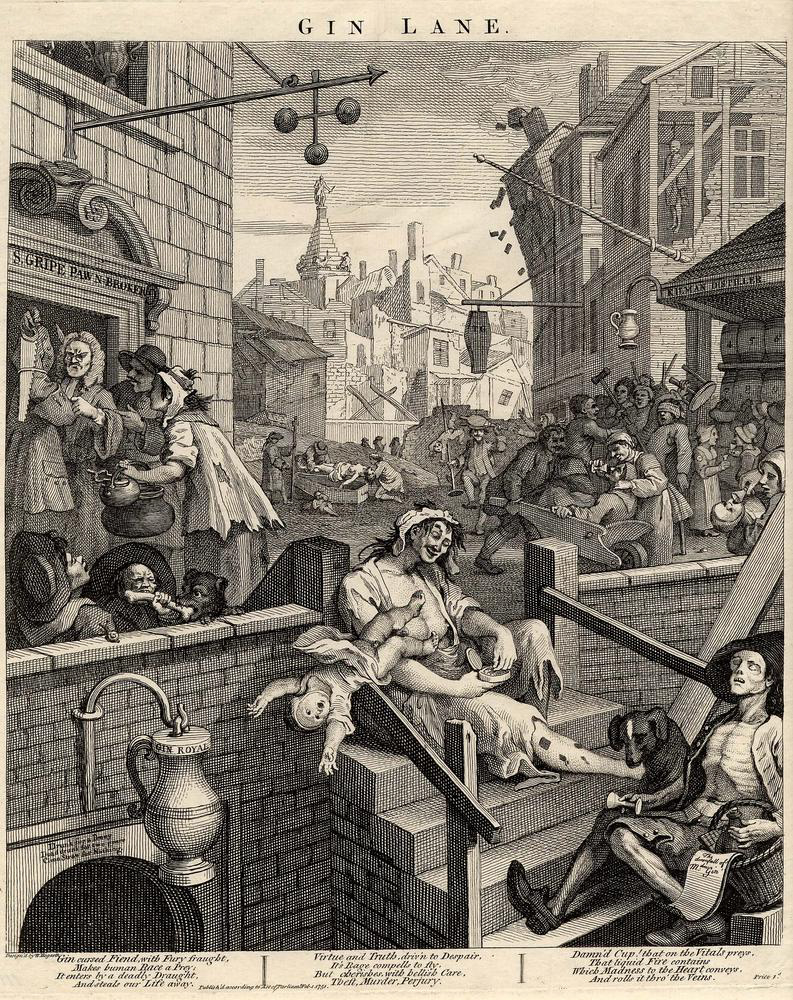 His most famous piece is the poster titled, 'Mother's Ruin' depicting Londoners in a state of despair. Its impactful imagery, Gin Lane, had a mother dropped her child, another man in need of a fish and chips, another man fighting with a dog over a bone, whereas the images depicting beer drinkers was far different. William Hogarth's beer drinkers were classy, elegantly dressed, rich, happy, full bellies and forever his efforts in turn changed the London Pub culture by seeing many more people drinking beer thereafter.
Gin of course has been revitalized and the London dry style gin brands are famous for their unique style and tastes.
Gin bars have begun to multiply due to the change in Gin's reputation, and rather than being seen as mother's ruin, it has now become popular due to this increase in popularity. We have a gin club on select Tuesdays which is designed to showcase some of our gin partners and give you a good Gin Education.
Our gin specialists will tell you about the history of their distillery as well as the intricacies and or the flavors present in the gin. Our staff has a lot of experience with drink and food combinations. We recommend that you try some of our Ginventions as well as sample some of our more than 30 different types of gin.
Juniper Berries Were Used To Flavor Gin
Gin began some time ago in the Netherlands or Belgium where it was called Jenever a drink the locals would craft and flavor with juniper. Eventually, it became popular in London and some people began to cut corners and produce versions of gin that were less pure and not as flavorful, thus where the description of Mother's Ruin came about.
The Gin and Tonic has saved more Englishmen's lives and minds, than all of the doctors in the Empire.

Winston Churchill
Gin is often a misunderstood spirit.
During the 1800's the British Empire found out that the people of India ate quinine to help with the symptoms of malaria; what had ended up was that the people would end up mixing gin with the quinine because of the bitter taste that quinine had. This led to the famous quote by Winston Churchill, "The Gin and Tonic has saved more Englishmen's lives and minds, than all of the doctors in the Empire." Other cocktails had been invented to help the health of sailors, the gimlet, which helped prevent scurvy.
Most people grow up and cannot recall a fond memory of gin—it conjures stigmas of pine needles and Christmas trees. What they have yet to discover is how many unique properties gin can help accentuate in one's palate when paired with food. Instead of associating the flavor of juniper berry with Aunt Pearl's stash of extra dry gin in a plastic handled bottle we can now sip smoothly the botanical forward and complex flavor profiles of the new and old style gins alike.
Not Just Any NYC Gin Bar
Mark Tafoya, co-founder of The Winslow, recalls when he and his brother would go to the local Safeway and buy the cheapest bottles of Safeway's own branded gin. Yes, prior to honing his craft as a bartender, this fine gentleman in his youth would drink that horrid product on the rocks in a Styrofoam coffee cup. Admittedly his own experiences left a nasty residue on his taste buds, and it wasn't until years later when he tried Hendricks that he started realizing gin itself wasn't just limited to the big players who owned the gin segment for so many years. Most notably: Gordon's, Bombay, Tanqueray and Beefeater.
Bathtub Gin Is Not Made In A Bathtub
Today's gin revival is in large part due to the process of making gin, and no, we don't mean in a bathtub. Take whiskey for example, it has always been popular and the distilleries that were making whiskey would have to wait five years until their product could be ready. That's a long time to wait for any kind of profit. Gin became a moneymaking machine for those distilleries because you don't have to age it. Beautiful small batch and craft gins started popping up changing many a mind as to what this whole gin game was about. This brings us to Hendricks's ten-year revival.
Hendricks long ago broke that Juniper Forward London style dry gin and instead began adding botanicals such as cucumber and rosebud to its gin. When people started drinking that style of gin and asking for it in the bars it opened up the doors for many more craft gins ranging from something as simple as distilling it with raw honey as you find in Barr Hill or all the way to Monkey 47, which, you guessed it, is made with 47 botanicals.
The Winslow's owners wanted to create a true British-inspired gastropub. Because gin has had such a big influence, as well as its history in London, they realized Manhattan needed a proper gin bar.
Largely influenced by the Spanish presentation of gin and tonics with botanical pairings, The Winslow wasn't just going to have gin on the menu– it was going to serve it properly. Often you will notice the spices, dried fruit and botanicals lining our bar. We add varying combinations to our gin and tonics and gin specialty cocktails. Gin has evolved, and alcohol purists, as well as people within the bar industry, have joined the evolution.
There's A Reason Why We're The Best Gin Bar NYC
The Winslow boasts over 40 different styles and brands of gin. Each is hand selected and available with a specialty tonic, specialty pairing or even many of our specialty cocktails. We think gin is special, and want each customer leaving here feeling the same way. If you are at all still on the fence as to whether or not gin is for you, stop in and be convinced.