So you are having a baby. Congratulations are hopefully in order and now comes the time to throw yourself, or preferably have friends or family members throw you, a fabulous baby shower where gifts, games, and general merriment can be lavished upon you as you grow a human. No place makes a brunch baby shower easier to organize than the team at The Winslow. Whether you're looking for a dining room, private party space or even just a home base for your friends and family to gather, this aptly named "baby shower restaurant" offers a unique space in which you can host a baby shower. The Winslow, which is conveniently located near the bustling Lower East Side, East Village, Union Square and Gramercy neighborhoods, is simply one of the best baby shower restaurants and bars with private rooms you could hope for in NYC . It has something for everyone.
Host Your Event In One Of Our Many Spaces
The Winslow offers a variety of large party spaces. Any one of which has been, or can be used to host amazing baby showers. As a NYC bar and restaurant you would expect to have to pay an arm and a leg to hold your baby shower there. Yet, The Winslow refuses to do the traditional markup of pricing and gouging that comes along with any baby packaging like other Manhattan venues would. The Winslow is quite the package. Kids are expensive enough; no need to pile on the financial burden with hosting your baby shower somewhere else. They don't charge a rental fee or ask for any deposits. The only requirement of the space is that your group reaches the set minimum spend amount (which varies depending on which space your group reserves). The minimum spend does not have to be on one check and any food or drink items you or your guests order goes towards it. There is no limit to how many tabs your party can start, This makes it easy for you, the host, to have guests come and go and pay for their own items upon consumption, without having to worry about splitting checks or getting stuck with the entire bill. It is not to say any family member or friend would do such a thing, but there is always that outlying future in-law to worry about. Everyone should celebrate the upcoming baby, not act like one.
Brunch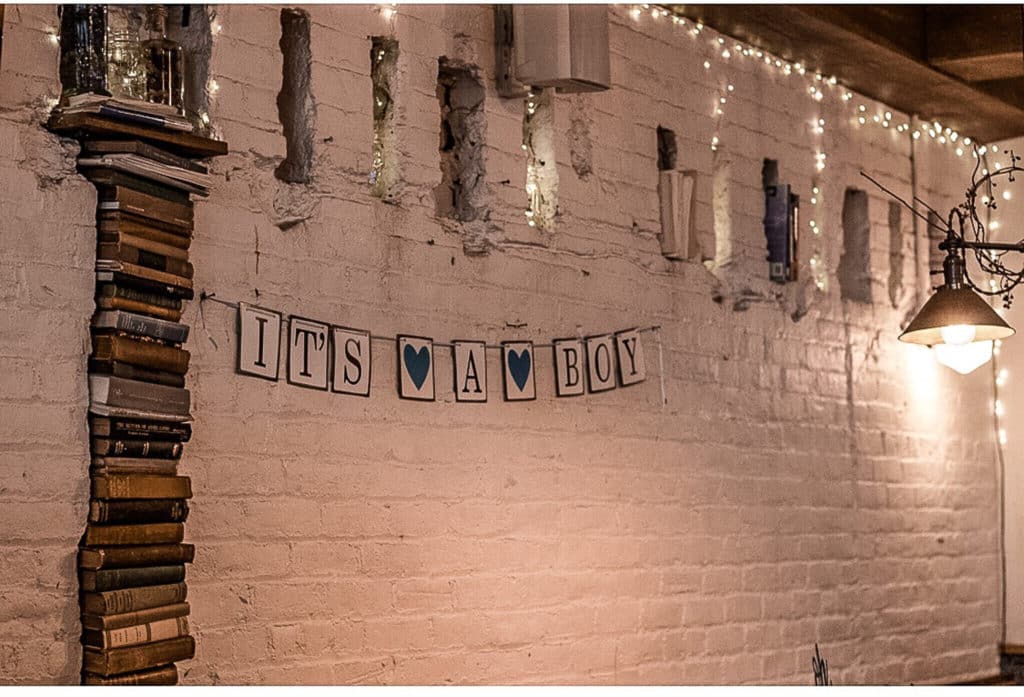 Something about baby showers lends itself well to a brunch or daytime gathering. The Winslow can help you realize these aspirations while assisting you in organizing and hosting an amazing and unique event. The Winslow's brunch East Village menu, served on Saturdays and Sundays (created by Executive Chef Nathan Pauley) vaunts a unique selection of fabulous, coveted and renowned dishes. Brunch is served from 11am-4pm so need to rush, and boasts such fare as their signature Chicken and Waffles (or try the new Waffle BEC), Black Pudding Eggs Benedict, The Pudgy Pancake, or more! The Winslow also has a delicious Party Food menu options as well that are both tasty and large party friendly. These items can be simple and elegant such as the Dill and Cucumber Tea Sandwiches, or a beautiful take on a party favorite such as the Pig-in-a-Blanket, which the chef prepares with an Irish banger sausage, house-brined pickle, mustard and puff pastry. As you won't be having much to drink it will be more fun to focus on the food. The food is your friend and is sure to satisfy any craving. In fact, it is so good your guests can also pretend they are eating for two. Either way you can host an extended guest list for several hours while eating various yummy nibbles, and sipping on artful, well-crafted and delicious cocktails, or of course, mocktails. All this baby shower bliss comes with no added hassle in an adorable package. You'll need your life to have a bit less stress before welcoming your new bundle of joy.
Baby Shower Package NYC
With food and drink handled, all you and the hosts and planners of your brunch event have to worry about is what baby shower games you'll be playing. Did you know that "Are You That Baby", "The Baby Bucket List", "My Water Broke", "What the Poo", "Sort That Baby", "Blind Diaper Challenge", and "How Well Do You Know Your TV Children" are all real baby shower games that people have posted about on the internet? Feel free to make up your own or look up the rules to those listed. There will be no shortage of fun or tiny versions of games in the theme of your choosing. No matter which game you choose the ultimate winner will be you and your unborn child, as you will be going home with many baby shower gifts, which of course, festivity aside, is the goal.
Evening Event Spaces For Baby Shower
The great thing about hosting or organizing a bridal or baby shower, or even a corporate team building event at The Winslow is you can make whichever large party space you reserve your own. It is sort of like a blank canvas for you to paint your party on. This particular baby shower restaurant will allow you to decorate to your hearts content. In fact the only décor they don't allow is glitter or confetti because, well, those products are terrible nightmare to clean up and don't be that guy. Other than that, balloons, signs, photos, or a gender reveal presentation—all are welcome and the more the merrier. Also, even though no outside food or beverage items are allowed (you won't need to bring anything in as the food is scrumptious and the drinks, designed by Beverage Director Cait Moorhead, are also to die for) they do make an exception with cake or cupcakes. This way you can commission a cake from a local bakery that's still within your theme of the shower, which is always a nice touch.
Some guests will be drinking and some, for obvious reasons, will not be consuming alcohol at the baby shower. The Winslow also has you covered here. Any member of the bar staff can talk to you about what flavor profile you tend to enjoy in drinks and make you a custom mocktail so you get something delicious specially designed for you and don't have to feel you're missing out on a single element of your baby shower.
Private Party Packages NYC The Winslow New York, NY
A baby shower is a special event and often includes too many people for you to host it your Lower East Side apartment. Family and friends gather from all around, both locally and from afar. What's nice about The Winslow is they offer a semi-private back room located near Gramercy Park. This allows you to feel like you are still hosting the style of baby shower you wanted to within your own space, but has all the added food, drink and ambiance the venue offers to help take those details off your plate. The Back Room can seat from as little as 10 guests up to 20 guests, but hold as a gathering space upwards of 30-35 guests. There are two glass window walls with sliding doors so you can control the sound levels, climate and flow of your baby shower, especially when you are hosting it in NYC. Parenting gets a good start at The Winslow.